Tongkat Ali elevates your mood and mental well-being by restoring key hormones in your body.
Discover how Tongkat Ali may improve your stress hormones to regain that smile.
Calm Your Body, Mind & Soul
Tongkat Ali's adaptogenic properties have been found by scientists to elevate overall mood by reducing tension, depression and anxiety by regulating cortisol and dopamine in your body.
Tongkat Ali performs well under extreme conditions when you are experiencing stressful or depressing situations that alter your emotions and actions.
Several studies have proven its efficacy in reducing cognitive stress, physical stress, behavioral stress and overall stress and improve overall mood.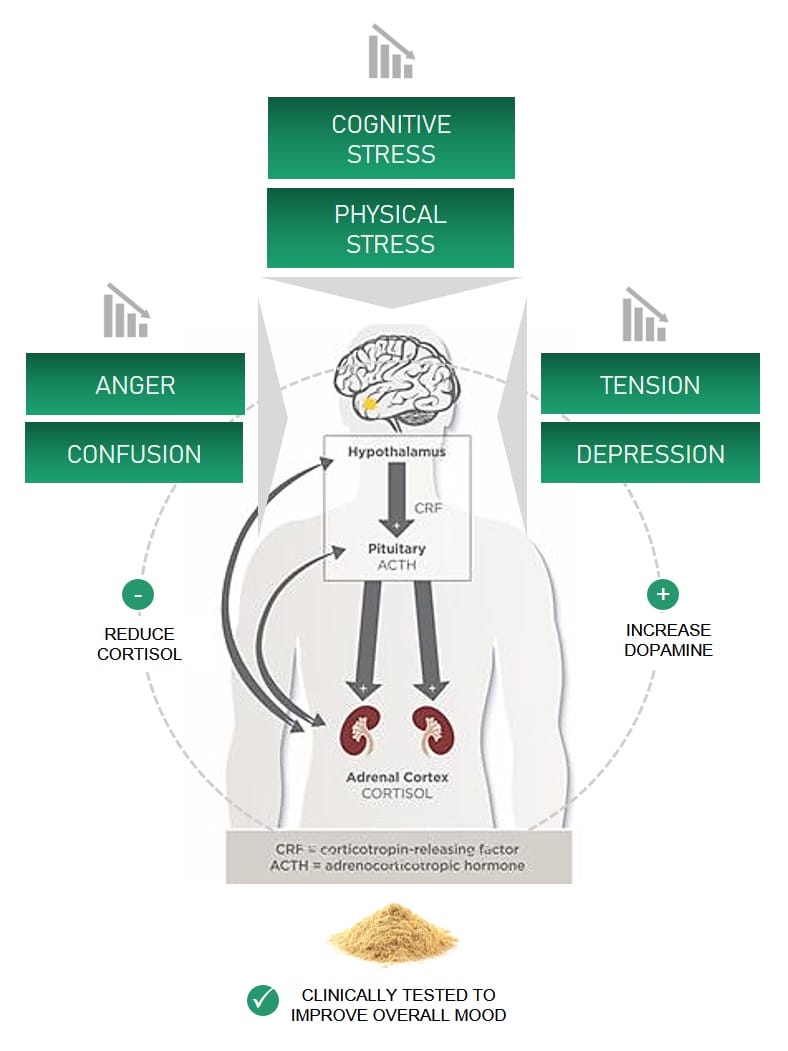 Manage your Stress, Anxiety & Depression
Rapid urbanization and modernization have tremendously impacted our lives and the world we live in.
of people living in urban areas are more likely to experience anxiety disorder.
of people living in urban areas or cities have an increased risk of mood disorders.
You could be one of them.
Your body, mind and soul deserve better supplementation.
AKARALI™ Tongkat Ali is your perfect stress-free companion. Discover a new world of natural wellness from centuries of tradition backed by decades of clinical trials.
Lower Tension, Depression, Anger & Confusion
Studies have shown that Tongkat Ali improves your mood, by lowering  Tension, Anger, Confusion and Depression. 
A recent study by the Journal of International Society of Sports Nutrition showed a reduction in Anger (-12%), Tension (-11%) and Confusion (-15%) after 4 weeks of consuming Physta® Tongkat Ali extract.
Tongkat Ali showed better scores in the Profile Mood State (PMS) after four weeks. PMS is a widely adopted psychological rating scale to assess transient and mood state.
Try one now and feel the difference.
AKARALI™ is formulated with Physta® Tongkat Ali freeze-dried extract that is clinically tested to show a reduction in cognitive stress, physical stress, behavioral stress and overall stress.
Gain more. Go Beyond.
REDUCTION IN COGNITIVE STRESS
REDUCTION IN BEHAVIORAL STRESS
REDUCTION IN PHYSICAL STRESS
REDUCTION IN OVERALL STRESS
Note: The randomized placebo-controlled clinical trial test results were based on 50mg of Physta® Tongkat Ali extract (Eurycoma Longifolia) taken with multivitamins (n=47 participants, 19 males and 28 females). Assessments were performed using Multi-Modal Stress Questionnaire (MMSQ) to define the MMSQ Scores.
The truth is, no one can take away that smile and happiness from you.
Cortisol and testosterone are key hormones in our body that affects our mood.
Mood-related symptoms such as irritability, poor concentration and depression are known to be scientifically linked to testosterone deficiency and high levels of cortisol.
Tongkat Ali works by promoting healthy levels of testosterone and reducing cortisol to achieve the hormonal balance that improves your mood.
Here is a what one our customers has to say after consuming Tongkat Ali for 30 days.
Yes, my mood improved significantly
I feel less anxious and calmer
AKARALI® is the market leader in quality Tongkat Ali supplements for men. We bring decades of experience in science, technology and global innovation.
million doses of Tongkat Ali extract produced.
countries where AKARALI® was sold and delivered.
clinical trials and research studies conducted since 2003
years of research to bring you the best formulation.
Can Tongkat Ali Benefit Me?
Tongkat Ali brings endless joy and smiles to both men and women.
Experience clinically tested Tongkat Ali with decades of research and clinical trials.
TONGKAT ALI BENEFITS ON WOMEN
From anti-aging properties, energy, libido, mood and others, Tongkat Ali benefits women in many ways.
TONGKAT ALI BENEFITS ON MEN
From men's fertility, libido, muscle mass, mood and others, Tongkat Ali benefits men in many ways.
Tongkat Ali is a natural herbal root from the plant Eurycoma Longifolia found in the wild rainforests of Malaysia and Indonesia. Tongkat Ali is consumed for centuries for health and general well-being. Once dubbed as the "Tree that cures a hundred diseases", it is now currently backed by 300+ research studies and clinical tests on humans in the last 20 years.
Our product contains 100% Tongkat Ali root standardized extract that is clinically tested for 20 years. Our highly potent MIT formulation contains the following bioactive-ingredients:
Tongkat Ali Bioactive Specification
1.5%-3% Eurycomanone
20% – 22% Eurypeptides
40% – 48% Total Glycosaponin
20% – 22% Total Protein
25% – 30% Total Polysaccharides
Our product is 100% plant-based and vegan-friendly.
Tongkat Ali is known for calming effects by lowering stress hormones such as cortisol. By regulating your cortisol levels, this will result in decreased in anxiety, tension and depression. Tongkat Ali studies showed a reduction of cognitive stress, behavioral stress, physical stress after 12 weeks of continuous consumption of 50 mg daily.
Yes, Tongkat Ali showed significant improvements in mood profile by reducing cortisol hormone which resulted in a reduction of anger by 12%, tension by 11% and confusion by 15% after 4 weeks of 200 mg consumption of Tongkat Ali daily. In addition, Tongkat Ali increases dopamine in the brain cortical and hippocampus, causing you feel more positive, more focused with greater mental clarity.
Clinically tested Tongkat Ali showed noticeable improvements in mood parameters within 4 to 12 weeks.  In some cases, our customers reported gains within less than a week. The outcome is dependent on your lifestyle, diet and habits.
Kindly check out our tips on how to gain best results from Tongkat Ali intake.
Tongkat Ali does not kill emotions or cause emotional numbness unlike Ashwagandha. Most users reported Ashwagandha cause emotional bluntness and reduction of feelings after prolonged use.
Tongkat Ali is potentially better when used in small doses to reduce mild stress or to improve mood compared to Ashwagandha without the side effects of emotional numbness.
Tongkat Ali is not classified as an antidepressant or a Selective Serotonin Reuptake Inhibitor (SSRI) drug. Having said that, Tongkat Ali supplements should not be used to treat depression. If you are exhibiting chronic or mild symptoms of depressions, please consult your nearest healthcare professional for further advice before taking Tongkat Ali.
You may take 200 mg daily for a duration of four weeks. Tongkat Ali studies on mood and stress reduction is based on 50 mg to 200 mg daily consumption of Tongkat Ali.
Tongkat Ali supplements can be taken continuously or with OFF/ON cycle. 
Tongkat Ali cycling is the practice of taking Tongkat Ali in a start-stop manner at regular intervals. Most consumers reported more benefits when cycling Tongkat Ali with a 4 week ON and a 1 week OFF cycle.
Please refer to our guide on how to cycle Tongkat Ali to get the best results.
Tongkat Ali side effects range from mild to severe. These side effects include headache, irritability, insomnia, elevated heart rate, anxiety, and gastrointestinal issues such as nausea and diarrhea.
Kindly refer to major causes of Tongkat Ali side effects for more information.
Tongkat Ali supplement is a dietary and food supplement. We recommend that you consult medical professionals and your nearest doctor before consuming Tongkat Ali. 
Tongkat Ali is not suitable or should not be taken by pregnant women, breastfeeding mothers and children below 18 years of age.
Disclaimer: The content published on this site is for educational purposes and is not intended to provide any form of medical advice or recommendations to consume medication, drugs, traditional medicine, or any herbal supplement brands including AKARALI products. By reading this, the sole responsibility and decision lie on the reader to perform their own assessment and / or to arrive at an informed decision based on publicly available information. Reading the content published on this website means you are aware of the risks involved in purchasing any of the products or brands mentioned in this article. We highly recommend you consult your nearest doctor before making any purchase from this website or any other websites or other social media platforms.
Read our disclaimer and privacy policy for more information.