Tongkat Ali is the best herbal supplement to improve your mood and mental well-being. Scientifically proven to revitalize and calm your mind.
Discover how Tongkat Ali may improve your stress hormones and regain that smile.
Calm Your Body, Mind & Soul
Tongkat Ali's adaptogenic properties have been found by scientists to elevate overall mood by reducing tension, depression and anxiety by regulating cortisol and dopamine in your body.
Tongkat Ali performs well under extreme conditions when you are experiencing stressful or depressing situations that alter your emotions and actions.
Several studies have proven its efficacy in reducing cognitive stress, physical stress, behavioral stress and overall stress and improve overall mood.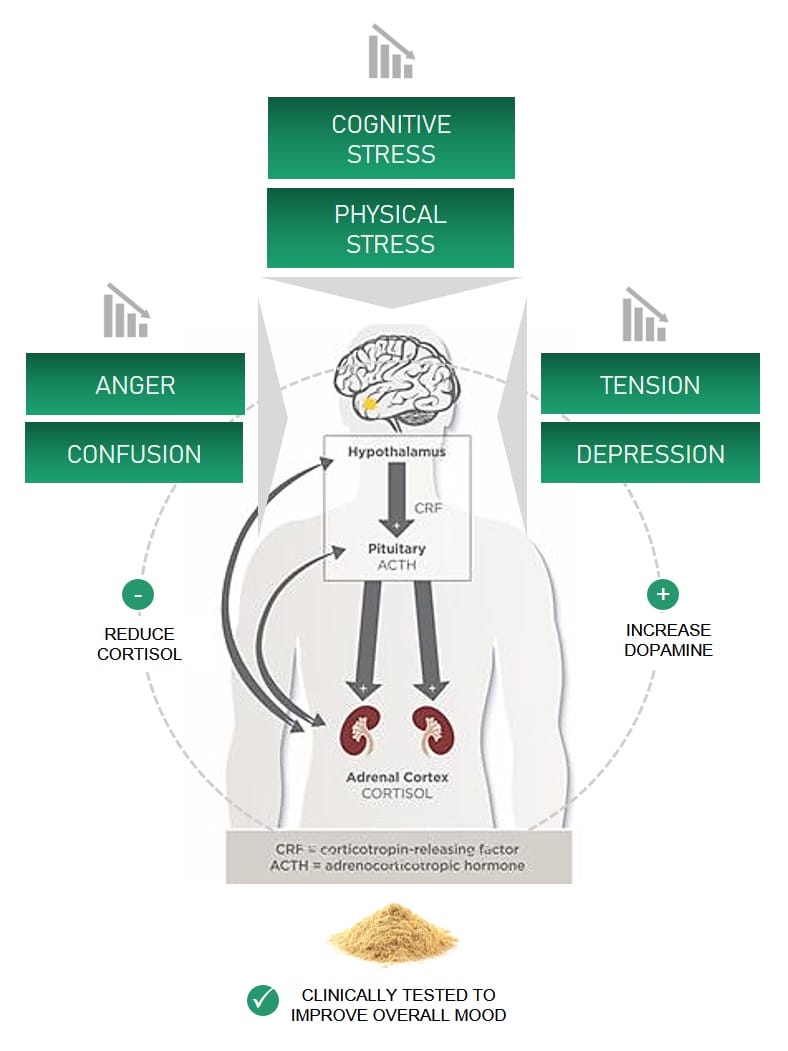 Manage your Stress, Anxiety & Depression
Rapid urbanization and modernization have tremendously impacted our lives and the world we live in.
Research has shown that urban living raises stress levels. 
of people living in urban areas are more likely to experience anxiety disorder.
of people living in urban areas or cities have an increased risk of mood disorders.
You could be one of them.
Your body, mind and soul deserve better a treatment.
Make AKARALI™ Tongkat Ali your perfect stress-free companion. Travel the world and discover a new world of natural wellness. Only the best herbal supplement from centuries of tradition delivers a meaningful experience.
Lower Tension, Depression, Anger & Confusion
Studies have shown that Tongkat Ali improves your mood, by lowering  Tension, Anger, Confusion and Depression. 
A recent study by the Journal of International Society of Sports Nutrition showed a reduction in Anger (-12%), Tension (-11%) and Confusion (-15%) after 4 weeks of consuming Physta® Tongkat Ali extract.
Tongkat Ali showed better scores in the Profile Mood State (PMS) after four weeks. PMS is a widely adopted psychological rating scale to assess transient and mood state.
Try one now and feel the difference.
AKARALI™ is formulated with Physta® Tongkat Ali freeze-dried extract that is clinically tested to show a reduction in cognitive stress, physical stress, behavioral stress and overall stress.
Clinically tested to work well with your daily multivitamins.
Gain more. Go Beyond.
REDUCTION IN COGNITIVE STRESS
REDUCTION IN BEHAVIORAL STRESS
REDUCTION IN PHYSICAL STRESS
REDUCTION IN OVERALL STRESS
Note: The randomized placebo-controlled clinical trial test results were based on 50mg of Physta® Tongkat Ali extract (Eurycoma Longifolia) taken with multivitamins (n=47 participants, 19 males and 28 females). Assessments were performed using Multi-Modal Stress Questionnaire (MMSQ) to define the MMSQ Scores.
The truth is, no one can take away that smile and happiness from you.
Cortisol and testosterone are key hormones in our body that affects our mood.
Mood-related symptoms such as irritability, poor concentration and depression are known to be scientifically linked to testosterone deficiency and high levels of cortisol.
Tongkat Ali works by promoting healthy levels of testosterone and reducing cortisol to achieve the hormonal balance that improves your mood.
Regain that joy
Here is a what one our customers has to say after consuming Tongkat Ali for 30 days.
Yes, my mood improved significantly
I feel less anxious and calmer
Can Tongkat Ali Benefit Me?
Tongkat Ali brings endless joy and smiles to both men and women.
Experience clinically tested Tongkat Ali with decades of research and clinical trials.
TONGKAT ALI BENEFITS ON WOMEN
From anti-aging properties, energy, libido, mood and others, Tongkat Ali benefits women in many ways.
Find out which hormones are affected by Tongkat Ali and how you can gain the most benefit.
TONGKAT ALI BENEFITS ON MEN
From men's fertility, libido, muscle mass, mood and others, Tongkat Ali benefits men in many ways.
Understand which key hormones are affected by Tongkat Ali and how you can gain the most benefit.
Bring Back Joy & Happiness
Revitalize your mind and soul with Tongkat Ali and bring back that joy and happiness. Improve your overall mood with regular exercises and a natural-plant based solution.
Treat yourself with a dose of authentic Tongkat Ali that comes with quality handpicked roots directly from the source.
And watch that smile.