Last Updated : 16th December 2020
There are two popular herbal roots that are widely discussed and consumed by millions around the world –  i.e Tongkat Ali (Malaysian Ginseng) and Panax Ginseng (Korean, Asian Ginseng or Chinese Ginseng).
Both Panax Ginseng and Tongkat Ali are consumed for centuries, dating back to the 1600s and backed by hundreds of research studies and clinical trials since the early 70s.
However, they come from a different family of trees; each root contains unique bio-active compounds that can benefit health in many ways.
But which is better?
Choosing between Tongkat Ali or Panax Ginseng largely depends on your health objectives. And having said that, lets find out how each herb can benefit your health goals.
Before we deep-dive, here are key similarities and differences that you should know.
Key Similarities
Tongkat Ali is known as Malaysian Ginseng, and the word "ginseng" refers to the root of a plant with medicinal properties.
Tongkat Ali (Malaysian Ginseng) and Panax Ginseng (Korean Ginseng) contain similar bioactive ingredients such as saponins and polysaccharides
Tongkat Ali and Panax Ginseng have both recorded at least 600 clinical trials and research studies since 1970s – 2021
Both Tongkat Ali and Panax Ginseng benefit men and women.
Tongkat Ali and Panax Ginseng can be consumed in tea, coffee or even in capsule form.
Both herbs are used to revitalize health for centuries.
Key Differences
Tongkat Ali has unique bioactive ingredients such as eurycomanone, eurypeptides that are increasingly known to deliver superior hormonal effects on testosterone and cortisol levels compared to Panax Ginseng.
Panax Ginseng has a unique bioactive ingredient known as ginsenosides that deliver a wide range of health benefits and is used for general well-being and longevity.
Tongkat Ali is believed to be amongst the top natural viagras proven to improve ED symptoms and may increase sperm concentration and motility.
Panax Ginseng performs better to promote brain function and as a potent antioxidant compared to Tongkat Ali.
Tongkat Ali and Panax Ginseng are not the same
Although Tongkat Ali is commonly referred to as Malaysian Ginseng, both Panax Ginseng and Tongkat Ali come from different family trees. And both of these plants are native to different countries too.
Key Facts
Tongkat Ali comes from a plant Eurycoma Longifolia belonging to family tree known as Simaroubaceae.
Panax Ginseng comes from a family tree known as Araliaceae.
Tongkat Ali is left grown and harvested in the wild rainforests of Malaysia and Indonesia
Panax Ginseng is harvested on an open farm in Northeast China and the Korean Peninsula
At first glance, Tongkat Ali may look the same as Panax Ginseng; with both roots having a strong light brown with a tint of yellowish undertone.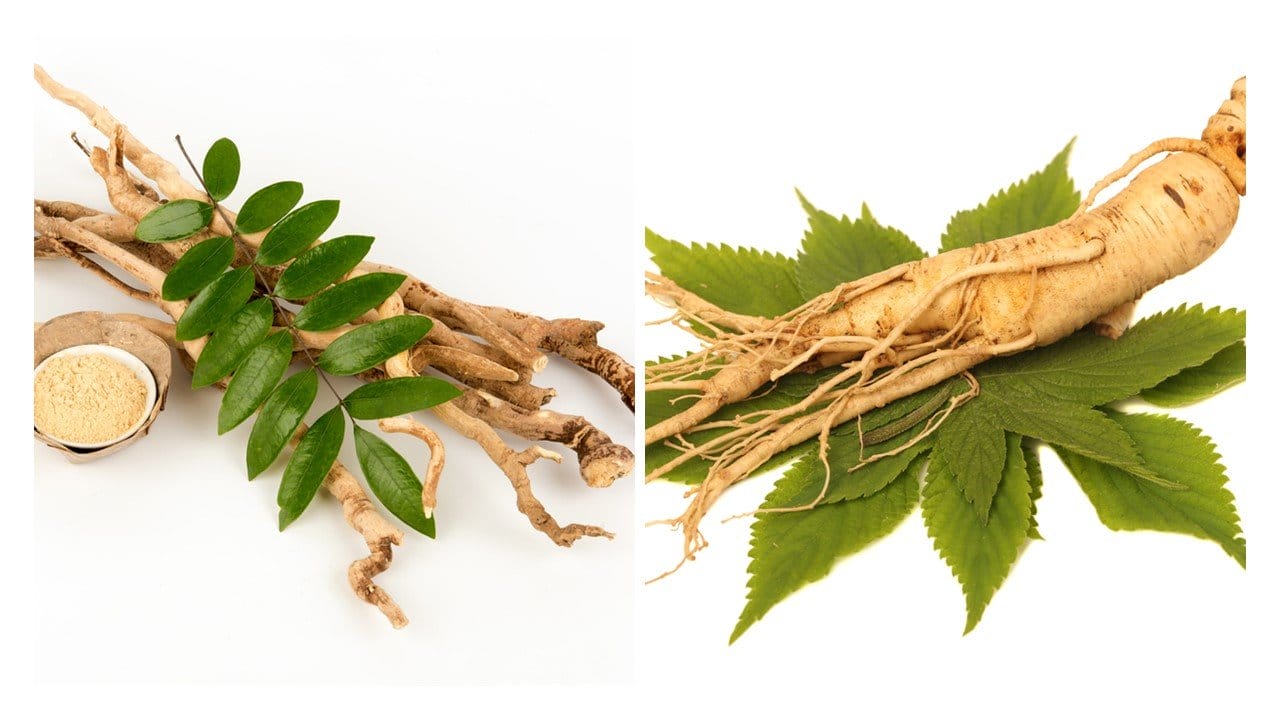 To the untrained eyes, both ginsengs looks the same. An image of Tongkat Ali (Malaysian Ginseng) shown on the left and Panax Ginseng (Chinese Ginseng) on the right.
Now from the above picture, can you guess which one is Tongkat Ali and which one is Panax Ginseng?
Most people cannot tell the difference at first glance but like any plant-based adaptogen, both contain similar bioactive ingredients that benefit your health in general.
Both Panax Ginseng and Tongkat Ali contain similar bioactive ingredients
Studies have shown that both Tongkat Ali (Malaysian Ginseng) and Panax Ginseng contain similar active ingredients such as saponin and polysaccharides but in different quantities.
Polysaccharides are polymeric carbohydrates that are mainly used for storing energy and providing support to cells and tissues.
Studies have shown that sulfate polysaccharides exhibit immunomodulatory, antitumor, anti-inflammatory, antimicrobial, and antiviral activities including anti-HIV infection, herpes, and hepatitis viruses.
Saponin is widely used in vaccine formulations to regulate immune function. Studies showed that saponin reduces cholesterol levels, kill disease-causing bacteria, scavenge oxidative stress and inhibit tumor growth. 
Saponins have been associated with various biological activities, such as anti-inflammatory, cholesterol-lowering and anti-cancer properties.
Panax Ginseng contains lower saponin than Tongkat Ali
To the end of 2012, at least 289 saponins were reported by scientists from eleven different Panax species. On average the percentage of saponin found in Panax Ginseng is between 2 – 3%.
However, the highest amount of saponin that can be extracted from panax ginseng using freeze-dried and aqueous is around 13.87% from dry weight of ginseng. This was done in an independent study performed by Naturex (USA) using chromatography test from freeze-dried ginseng extract in Labconco, USA.
The amount of saponin in Tongkat Ali is higher than Panax Ginseng, which delivers higher benefits.
Comparatively, freeze-dried Physta® Tongkat Ali showed saponin content as high as 48% using chromatography tests, making one of the more potent ginseng that is on the market today.
So between Panax Ginseng vs Tongkat Ali, if the quantity of saponin matters to you, then Tongkat Ali is a clear winner.
But lets pause for a second.
Panax Ginseng vs. Tongkat Ali: Which is better?
Tongkat Ali and Panax Ginseng may have similarities and distinct differences, but each delivers a set of health benefits due to its unique bio-active ingredients.
Picking a clear winner largely depends on your health goals.
If you are a woman, studies and clinical trials have shown that Tongkat Ali benefits women's health in 5 key areas. From a benefits standpoint, Malaysian Ginseng may outperform or at par with Panax Ginseng.
Now let's examine Tongkat Ali vs. Panax Ginseng to understand which herb works better to achieve those specific health benefits.
Antioxidants:

Ginseng has more antioxidants than Tongkat Ali
Heart Disease

: Ginseng works better than Tongkat Ali
Testosterone

: Tongkat Ali is more superior than Ginseng
Erectile Dysfunction

: Tongkat Ali wins hands down
Menopausal

: Both Ginseng and Tongkat Ali benefit women
Side Effect

s: Ginseng has more serious side effects
There are serious safety issues when consuming Ginseng reported by scientists and researchers around the world since 1978 compared to Tongkat Ali's mild side effects.

In fact, 35% of clinical trials reported side effects of ginseng which include mild and slight symptoms include dizziness, facial flushing, headaches, transient anxiety, diarrhea, insomnia, hypoglycemia, nausea, dyspepsia, stomach discomfort, body rash and pruritus, palpitation, urticarial condition, vomiting, fever, nervousness, and constipation

In comparison, Tongkat Ali has fewer side effects such as stomach discomfort and mild insomnia. Most consumers reported no side effects when taking Tongkat Ali with the recommended daily dosage.
Now, let's deep dive into Tongkat Ali and Panax Ginseng scientifically-backed health benefits.
TONGKAT ALI POTENTIAL BENEFITS
1.  Aphrodisiac effects
Tongkat Ali (also named as Malaysia's home-grown 'Viagra') has been used as an aphrodisiac for centuries. Studies show positive effects and relatively high potency compared to other herbs. Two studies show an increased libido in men in the range between 8.4 and 8.7% and 162% improvement in erection time.
More of it here.
2.  Boosting testosterone
It helps you produce a higher amount of testosterone by fixing any disturbance that you may have regarding testosterone production. It also unlocks free testosterone. Tongkat Ali contains the compounds 13-alpha epoxy Eurycomanone that helps boosting the testosterone by up to 122% in women and by up to 61% in men.
More of it here.
3.  Improves fertility
 If you are a man and reading this, you should know that Tongkat Ali will bring you 65% more sperm and 58% more sperm motility. A study published in 2010 reported the changes in sperm quality in 75 men who were given 200mg of Tongkat Ali each day for three months. Their sperm quality improved significantly, and 15% of participants reported unplanned pregnancies following the treatment.
https://www.ncbi.nlm.nih.gov/pubmed/20348942
4. Stress reliever
When your body and mind are under stress, the level of cortisol will increase while the testosterone level is suppressed.
Tongkat Ali takes care of your levels of stress by affecting your endocrine system. Studies showed it reduces anger by 11% and tension by 12% after 4 weeks of consuming Tongkat Ali.
More of it here
5.  Fat loss and muscle gain
Are you feeling fatty or bloated? Don't worry! Tongkat Ali is especially popular natural supplement among bodybuilders who are looking to change their muscle to fat ratio. However, you don't need to be a pro athlete to feel the potential improvements.
A promising Malaysian study published in 2002 showed that Tongkat Ali has the potential to improve body mass and decreased the percentage of body fat.
 https://bjsm.bmj.com/content/37/5/464.full#sec-7
6. Energy booster
The rise in energy that you'll get from this root can help you slide through the busy day by assisting your hormone's balance with the ability to speed up metabolism to complement your fitness regime. 
The mechanism works by rising your testosterone hormones and by regulating it improve other functions of your body. Hence this is why Tongkat Ali is highly attractive amongst the fitness community – pre-mixed Tongkat Ali with other Maca herbs as pre-work out drinks proved to be popular until today.
GINSENG POTENTIAL BENEFITS
Ginseng has been consumed for centuries, and perhaps longer than the discovery of Tongkat Ali. 
The tradition of using Ginseng to heal and improve health originates from mainland China. You may find Ginseng tea in every corner of the city and now largely consumed as part of a person's daily diet. 
The amount of Ginseng contains in each tea varies largely and potency of it depends largely on the extraction technology and the soil used to harvest the plant.
1. Improves "the notorious ED"
There is significant evidence that after 12 weeks of the experiment, this Panax Ginseng is significantly improving erectile dysfunction. Seventy-eight men from 25–50 years of age; suffering from mild to moderate erectile dysfunction, participated in this study.
Researchers concluded that Ginseng might be an effective alternative treatment for impotence.
As active ingredients of Ginseng, ginsenosides, are causing increased release of nitric oxide, which spreads the blood vessels and allows better blood flow to the penis.
                                                                  (https://www.ncbi.nlm.nih.gov/pmc/articles/PMC3478157/)
2. Promotes longevity
In 1933 the New York Times published a news article about the death of Professor Li Chung Jun, who lived for two and a half centuries!
Yes, you read it right. His age, 256 years, was officially confirmed by the Chinese government and several independent researchers. Allegedly, the long-lived Li Cung outlived 23 women. He experienced eleven generations of his descendants. The herbs he collected and used helped him to reach such an astonishing age.
Guess what herb was in his diet mix?!
3.  Potent Antioxidant
Clear the issues that you are not even aware of.
Ginseng has beneficial antioxidant and anti-inflammatory properties. Some test studies have shown that Ginseng extracts could inhibit inflammation and increase antioxidant capacity in cells.
                                                                       (https://www.ncbi.nlm.nih.gov/pubmed/23356855).
4. Anti-depression & Anti-anxiety
Ginseng has an excellent anti-stress treatment, but unlike caffeine, it does not cause the so-called depressive phase. It is assumed that such action of Ginseng comes from an increase in the activity of adrenocorticotropic hormone (ACTH) in the brain but without the involvement of the adrenal glands that ACTH otherwise activates.
5. May benefit brain function
The latest US study has investigated whether a pure Ginseng extract can protect the brain from toxins that cause weaker physical mobility and loss of neurons. Testing carried out in laboratory mice showed that concentrated Ginseng extract significantly reduced the induced damage and brain cell loss.
It turned out that ginsenosides act as antioxidants and protect against oxidative damage that is responsible for the development of Huntington's and Parkinson's disease.
                                                                             (https://www.ncbi.nlm.nih.gov/pubmed/21154383)
6. Fights obesity
One study favors the use of this Chinese superfood to fight against obesity.
Remember, you need to be in great shape to get maximum for your sexual life. This is very important!
Study says: "Ginsenosides (the major active component in ginseng) may help control appetite and prevent the over intake of food energy by improving leptin resistance, and reducing the secretion of neuropeptide Y which plays a leading role in the regulation of eating behavior."                   
                                           (https://www.sciencedirect.com/science/article/pii/S1226845316302561)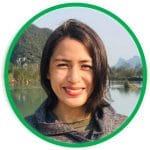 Author
Naressa Khan contributes regularly on AKARALI. As a researcher and investigative journalist, Naressa is all about creating, deconstructing, and reassembling meaningful content through words and facts. With this approach always in mind, she eagerly explores the nuances in life via the aspects of lifestyle, culture, travel, health, and wellness in Malaysia .
Our articles are third party reviewed by our panel of experts and medical advisors to ensure the facts are accurate and credible. These are validated against multiple source references which include but not limited to research studies, peer-reviewed journals, pre-clinical studies, clinical tests and other credible publications.
Our panel of medical advisors and experts are highly experienced in their individual fields. However, they do not provide any medical advice or recommendations arising from content published in this article.