Consumers taking Fadogia Agrestis may not be aware on the potential side effects. Even the infamous Dr. Andrew Huberman did not warn users on the negative effects of Fadogia, particularly on your kidney and liver.
The truth is, consumers are misled by social influencers and celebrity doctors.
Many are willing to live with the minor side effects of Fadogia such as insomnia, nausea, headaches without knowing the long-term damage on vital organs such kidneys and liver.
This article deep dive into the severe side effects of Fadogia, how it may affect your vital organs and whether you should continue taking Fadogia supplements.
Fadogia cienkowskii, or Fadogia Agresits is a flowering plant from the family Rubiaceae. Fadogia is a native plant from Nigeria and Fadogia roots are believed to treat various diseases and used as a natural aphrodisiac for men.
In recent years, Tongkat Ali and Fadogia have been taken separately or mixed together as a natural supplement, which many believe may boost testosterone and improve men's fertility.
However, users should be aware of the side effects when taking Fadogia, or when combining Fadogia Agrestis with Tongkat Ali and other supplements.
A recent study in July 2023 by a group of scientists from the Pharmacology and Toxicology Department of Pharmaceutical Sciences University of Jos, Nigeria showed severe side effects on kidney and liver after administering Fadogia extract on rats for 40 days.
With a growing list of acute and adverse side effects of Fadogia, Fadogia Agrestis supplements are now raising alarm bells amongst health coaches, and nutritionists in the US and UK.
US health experts and doctors are advising patients not to use Fadogia due to high-risk concerns on kidney and liver failures.
Major side effects 
Liver inflammation

 

Kidney inflammation
Minor side effects of Fadogia Agrestis
Nausea
Headaches
Vommitting
Loss of vocal chords
Affects sleep
Skin irritations
Does Fadogia affect liver or kidneys?
Yes, a recent study conducted by scientists from the University of Jos, Nigeria reported severe inflammation of kidneys and death of liver tissue (necrosis) based on 50 mg/kg, 100 mg/kg and 200 mg/kg of body weight after 40 days.
The animal study on Fadogia's effect on the liver and kidney confirms the extent of the damage and was conducted as part of a toxicology and safety assessment published in the Scientific African in July 2023.
Source: Effect of oral administration of Fadogia cienkowskii Shweinf. (Rubiaceae) ethanol root extract on some semen parameters, testes, epididymis, liver and kidney of male albino rats (Scientific African Journal, Volume 1, July 2023)
In the following sections, we shall deep-dive into the extent of the liver and kidney damage caused by Fadogia extract.
Effects of Fadogia on liver
The study showed that the albino rats treated with 50 mg/kg of Fadogia extract showed ballooning necrosis (death of tissue cells), while rats treated with 100 mg/kg extract showed massive tissue degeneration (necrosis), and rats treated with 200 mg/kg of the extract also showed further ballooning necrosis.
The study suggests strong evidence of the damaging side effects of Fadogia on liver at low dosages, causing death of body tissue in liver (i.e necrosis) which cannot be reversed.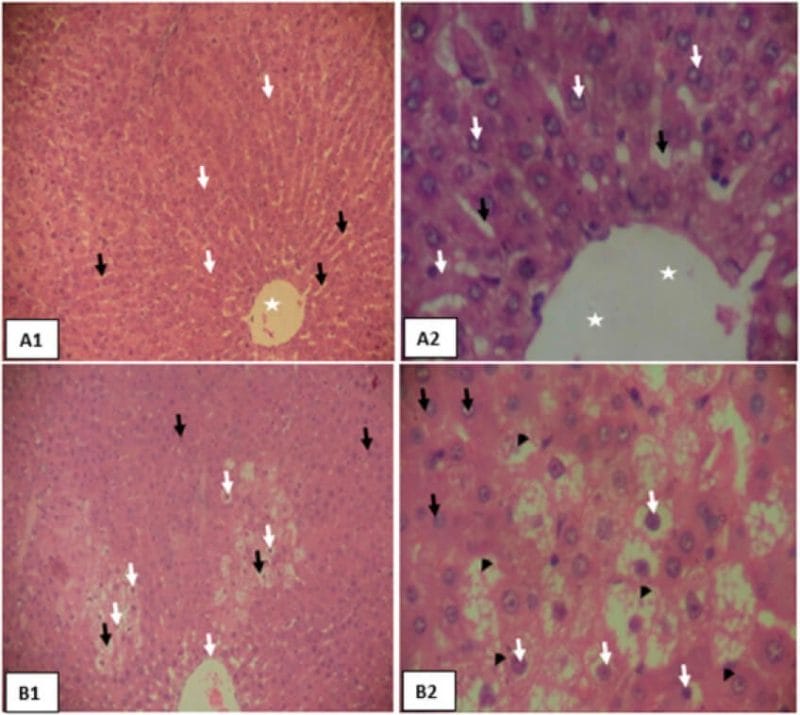 Necrosis occurs when too little blood flows to the organ tissue and when large areas are affected, it is known as gangrene. This suggest long term use of Fadogia may cause gangrene, causing liver failure.
Effects of Fadogia on kidney
The same toxicology study conducted in July 2023 showed a massive presence of inflammation of cells in the kidneys of albino rats when treated with 50 mg/kg of Fadogia root extract. This confirms that Fadogia causes damage to the kidneys.
The effects of Fadogia Agrestis as higher dosage of 100 mg/kg also showed massive presence of inflammation red blood cells within the tissue and the reduction in interstitial spaces.
Get more insights on Fadogia's side effects, safety and limits
Does Fadogia have severe side effects?
The most severe side effects caused by Fadogia based on the latest 2023 study were massive inflammation of the kidney and death of liver tissue cells due to necrosis. These damaging side effects may cause organ failure and the severity of it should be taken seriously.
Does Fadogia cause death of tissue cells?
Yes, the latest study in 2023 by a group of Nigerian scientists confirms that Fadogia causes necrosis – an irreversible cell injury (caused by inflammation) and subsequent death of tissue cells in liver and kidneys.
Does Fadogia cause liver failure?
Yes, recent study using 50mg / kg of Fadogia showed strong evidence of degeneration and death of tissue cells in liver of albino rats after 40 days. This suggests long term consumption of Fadogia may cause further deterioration of liver function and possible liver failure.
Is Huberman recommended dosage of Fadogia safe?
Dr. Andrew Huberman's recommendation of 400 mg of Fadogia Agrestis should not be viewed as safe as a recent study published in the Scientific African journal in 2023 reported that Fadogia caused massive inflammation of the kidneys and death of liver tissues at 50 mg/kg, 100 mg/kg and 200 mg/kg of Fadogia extract.
As the long-term kidney and liver failure from continuous consumption of Fadogia Agrestis cannot be detected early, users are advised to consult the nearest doctor before taking Fadogia supplements.
Is Fadogia safe when taken in low dosage?
Early studies in 2023 showed that Fadogia produce adverse effects on kidney and liver as low as 50 mg / kg, which is equivalent to 600 mg / kg of human body weight. Taking low dosage below 100 mg may be a safe option but that does not mean it will not affect your kidney or liver long term.
Should you combine Fadogia and Tongkat Ali together?
Fadogia is known for its damaging side effects on the liver and kidneys as reported by the study published in the Scientific African in July 2023. Therefore, is advisable not to take any form of Fadogia-Tongkat Ali supplements to protect against any possible liver and kidney damage.
Is Fadogia Tongkat Ali supplements safe?
The Fadogia-Tongkat Ali supplement may cause severe inflammation of the kidney and death of liver tissue (necrosis) due to the addition of Fadogia as an active ingredient. Users are cautioned against consuming herbal products that damage the liver and kidneys.
Please consult your nearest doctor or healthcare for advice before consuming Fadogia-Tongkat Ali supplements.
Natural supplements such as Fadogia may be the latest fad as popular brands such as Momentous Fadogia are constantly being hyped up by celebrity doctor Andrew Huberman.
Meawhile, users should be cautious on the damaging side effects of Fadogia as science has proven its severity on kidneys and liver functions. The death of tissue cells caused by Fadogia continues to be a cause of concern amongst herbal users.
While you may not be prone to any visible side effects of Fadogia, the long-term adverse effects on your liver and kidney are real and cannot be denied.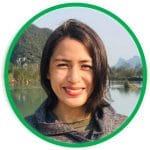 Author
Naressa Khan contributes regularly on AKARALI. As a researcher and investigative journalist, Naressa is all about creating, deconstructing, and reassembling meaningful content through words and facts. With this approach always in mind, she eagerly explores the nuances in life via the aspects of lifestyle, culture, travel, health, and wellness in Malaysia .
Our articles are third party reviewed by our panel of experts and medical advisors to ensure the facts are accurate and credible. These are validated against multiple source references which include but not limited to research studies, peer-reviewed journals, pre-clinical studies, clinical tests and other credible publications.
Our panel of medical advisors and experts are highly experienced in their individual fields. However, they do not provide any medical advice or recommendations arising from content published in this article.
Disclaimer: 
The content published on this website is for educational purposes and should not be viewed, read, or seen as a prescription or constitute any form of medical advice. We recommend you consult your nearest GP or doctors before consuming Tongkat Ali or any products which contain Tongkat Ali. For further information, kindly refer to our Frequently Asked Questions (FAQ) for more information.