Description
INSANE VALUE WITH AKARALI™ Jumbo Pack
AKARALI TL200 (EURY-PREP200) is formulated for long-term benefits and sustenance using standardized hot water root extract. 
Our Jumbo Pack contains 6 bottles with a total of 180 capsules. This is ideal for those seeking longer consumption to improve libido or to boost testosterone which can be integrated as part of a daily diet.
With US-patented freeze-dried hot water extraction technology Physta®,  AKARALI™ contains the best bioactive ingredients from Tongkat Ali (Eurycoma Longifolia) with the highest level of potency compared to traditional extraction methods. 
AKARALI dosage-optimized standardized root extract is more potent than the conventional generic 200:1 Tongkat Ali extract.
Longer-term consumption of Tongkat Ali delivers significant improvement in energy, stamina and performance.
Potent Tongkat Ali Standardized Extract
1.5%-3% Eurycomanone
20% – 22% Eurypeptides
40% – 48% Total Glycosaponin
20% – 22% Total Protein
25% – 30% Total Polysaccharides
Certified & Lab-Tested
Our standardized Tongkat Ali extract is produced in a USFDA-inspected facility, GMP-certified and conforms to international quality manufacturing standards.
AKARALI complies with the Tongkat Ali standards published by the Malaysian Standards MS2409. The Malaysian Standard MS2409 prescribes the quality standards of standardized water extract of Yellow Tongkat Ali (i.e Eurycoma Longifolia).
Our Tongkat Ali standardized extract is also 3rd-party lab-tested by EUROFINS to ensure it is free from adulterants, and illegal or harmful substances.
Recommended Use 
One to two capsules per day 

Ideally after meals (morning and dinner time)

Note: can be taken with or without meals
User Guide
Quick reference:
Delivery
3 to 5 days via DHL / FEDEX
1 to 2 days for domestic delivery
Refund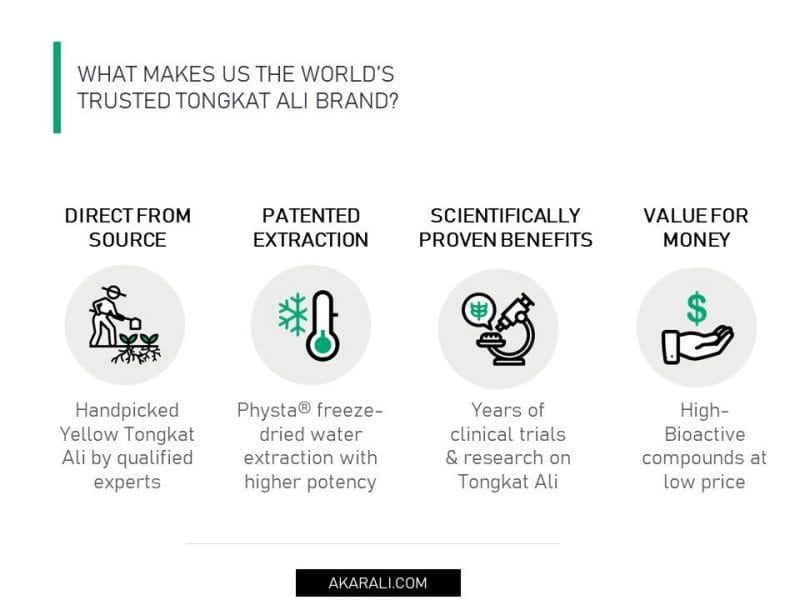 Benefits of AKARALI Standardized Physta®Tongkat Ali Extract
Highest potency and purity
Clinically tested with 26 clinical trials on men and women
Pharmaceutical grade Tongkat Ali extract
Verified by scientists and tested by medical professionals
Consistent results from each batch of production
Higher molecular rigidity and minimized degradation
Why should you buy clinically tested standardized Tongkat Ali?
Tested on humans (both men and women)
Certified by qualified scientists and medical professionals
Time-tested to deliver almost-guaranteed gains
It delivers consistent results
It is quality tested with high production standards
Tongkat Ali Benefits:
Our standardized Tongkat Ali extract offers higher benefits that are clinically tested by scientists and medical professionals in the field of natural wellness and health. Some of the potential benefits include:
Promote a healthy hormonal balance in the endocrine system
Supports a healthy testosterone level in men and women
Supports a healthy sexual desire and libido
Supports men's fertility (eg: sperm count, motility and concentration)
Improve mood through reduction of cortisol (stress hormones)
Improve energy, stamina and overall vitality
About Tongkat Ali:
Tongkat Ali (Eurycoma Longifolia), better known as Malaysian Ginseng or Yellow Tongkat Ali, is used for centuries to revitalize health. Tongkat Ali is an adaptogen plant have been used in a wide range of applications backed by more than 300 research studies and clinical trials in the last three decades. Tongkat Ali standardized extract delivers better benefits to revitalize health but is not intended to treat or cure diseases. Tongkat Ali supports healthy testosterone levels, mood, energy, and muscle growth and promotes a healthy hormonal balance in the endocrine system.
Protect your health & spot counterfeits.  
Warning:
Tongkat Ali is not recommended and is never to be consumed for children below 18 years of age, pregnant or breastfeeding mothers, cancer patients, and other fatal diseases. We recommend you consult your nearest GP or doctor for advice before consuming any Tongkat Ali products.